In October of 1930, Margaret travelled to Rio de Janeiro to compete in the Miss Universe beauty pageant. Margaret was unable to place in the competition, and was stranded in the capital city, along with contestants from other countries, when steamship travel was suspended from the port due to the Brazilian revolution.

MARGARET RETURNS HOME

By early 1932, Margaret had grown weary of the travelling and publicity. She wrote home to friends saying, "I'm tired of all this. It is all very exciting and beautiful I suppose, but for me, I prefer the quiet home life with mother, father and the children." So Margaret came home, much to the surprise of her over-awed friends and fans who saw only the glitter and glamour in the life of a celebrity. She took a job as a department store clerk in Orlando at Dickson & Ives, and became just plain "Mickey" again to her friends, who rallied to her. She never followed through with her marriage to Will Osborne.

MARGARET DIES SUDDENLY

On Wednesday, July 20, 1932, Mickey was rushed to the Orange General Hospital** for an emergency operation due to peritonitis, and died the next day. She was 20 years old. Her funeral, which was originally scheduled for Friday, was postponed until Sunday so that hundreds of her friends who worked during the week could attend.

**Stories written concerning her death incorrectly state that she was taken to Orlando General Hospital. Orlando General Hospital did not exist until 1961 when the Orlando Osteopathic Hospital (founded in 1941) moved to a new facility.
See History of Orlando Health and Florida Hospital, East Orlando.
Corrected hospital information provided by Warren French of the Orange County Library System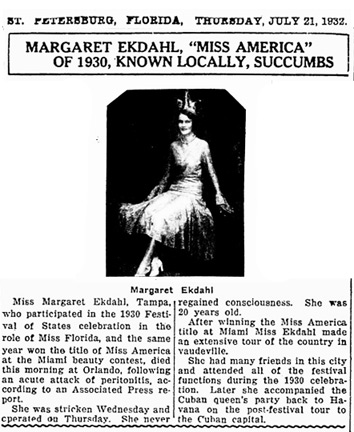 Nearly 2,500 people came to Carey Hand Funeral Home's chapel to pay their respects, to say farewells to the girl they knew and loved. Brossier wrote a tribute to Mickey, recalling the days when as a schoolgirl, Mickey worked in the tea room, "I remarked to her, 'Some day, Miss Cinderella, we shall make you America's beauty queen.'"
Time has dimmed Mickey Ekdahl's flash of fame, but she wasn't forgotten. Up until at least 2003, someone--nobody knows who--still put flowers on the grave of the girl with the haunting eyes.
Other local beauties have gone on to do well in the Miss America pageant. Neva Jane Langley of Lakeland became Miss America in 1953, but she competed as Miss Georgia because she was attending college in that state. Ann Daniel became alternate Miss America in 1955 while she was attending Florida Southern College in Lakeland. Leanza Cornett of Jacksonville, who lived in Winter Park while playing Ariel at Walt Disney World, became Florida's first official Miss America in 1992. Orlando native Ericka Dunlap was crowned Miss America in 2004.
Some information from
Orlando, City of Dreams
Florida Hasn't Been Shortchanged in Miss America Beauty Pagents
Cape Canaveral
Corrected hospital information provided by Warren French of the Orange County Library System