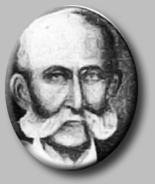 **HARLAN PAGE LOVERING – Independent Research, JULY, 2009
Contrary to what is written at the Tampa Mayors' history on TampaGov.net, Mayor Lovering DID return to Tampa after his term as mayor. Descendants of Mayor Lovering still live in the area and are the source of some of the information below.
Harlan Page Lovering, (Sr.) was born June 6, 1843 in Loudon, Merrimack Co, New Hampshire. His parents were Samuel B. Lovering and Mary S. Rogers Lovering; both were from New Hampshire. Samuel was a farmer with a sizeable farm; his real estate was valued at $2300 and his property at $1000 in 1860.

Harlan was one of 5 children of Samuel B. Lovering and Mary Rogers
1. James B. Lovering, born around 1839, New Hampshire
2. Harlan Page Lovering, born June 6, 1845, New Hampshire
3. Abigail Lovering, born around 1845, New Hampshire
4. Clara A. Lovering, born around 1849, New Hampshire
5. Frank O. Lovering, born around 1856, New Hampshire
Harlan lived with his parents and siblings in Loudon, NH, at least until the age of 16 in 1860. At some point before 1860, Harlan's mother Mary appears to have died and his father Samuel remarried to Nancy (or possibly Lucy by 1870). Samuel also appears to have had a 6th child in 1865, Edwin E. Lovering. By 1870, Samuel's real estate was valued at $5000, and property at $1000. He lived until at least 1880.
By 1870 (age 27), Harlan had married Eliza A. Wentworth and moved to Cedar Key, Florida. Eliza was born around 1847 in Massachusetts. Harlan worked in lumbering and was doing quite well. In 1870, his property was valued at $5000 which was at least five times that of his nearest neighbors.
Around 1872, Harlan and Eliza's first child was born, Effie M. Lovering. Effie was born in Massachusetts, so it is possible that Harlan and Eliza had travelled back up north, or only Eliza returned to her home state to have Effie.
Taking into consideration the information known about Harlan from the sources listed at TampaGov.net, it is around this time that Harlan was in Tampa to establish a good source of cedar wood, at the request of his brother. It is believed that by this time, Harlan's brother, (James B. Lovering), was in the business of pencil manufacturing in Jersey City, NJ, with the Joseph Dixon Crucible Company. (The makers of the Dixon Ticonderoga pencil, not "Dixie.")
Around 1870 the Joseph Dixon Crucible Co. secured its own dedicated source of cedar in Florida; the Dixon Mill was first located at Tampa and later at Crystal River. The company's search for graphite, its primary raw material, connects it with President Franklin Pierce of New Hampshire.
According to TampaGov.net, Harlan prospered as a businessman in Tampa, by purchasing a sawmill on the Hillsborough River, opening a general store, shipping citrus up north, and co-owning a steamship to transport foodstuffs and cedar.
In 1874, Harlan's second child, James Raymond Lovering, was born in New Hampshire. In these times, Harlan became one of the leading businessmen in Tampa which lead to his involvement local civic activities and politics. On May 28, 1876, Harlan's third child was born, Harlan Page Lovering, Jr., born in Tampa. The next month, Harlan P. Lovering, Sr. would campaign for mayor of Tampa, win the election, and serve a one-year term. He was 33 at the time. He would also serve on Tampa's city council in 1877.
Sources for TampaGov.net state that a fire destroyed Harlan's Tampa sawmill in 1878, which is around the time Annie F. Lovering, Harlan and Eliza's fourth child, was born in Florida. Supposedly, Harlan then returned to New Jersey and never returned to Tampa. If Harlan did go back up north, he may have gone up to Boston, Massachusetts to relocate his wife and children, and possibly to see his brother James B. Lovering in Jersey City. But he didn't stay. This is based on the 1880 census records.
In 1880, Harlan's wife Eliza, along with their children Effie, James, Harlan. Jr., and 2 year-old Annie, were living in Boston, Massachusetts. It is possible she went to be close to her parents and family while her husband ran his sawmill in Sumter County, FL. Harlan P. Lovering , at age 37, had moved to Sumter County Florida by the time of the 1880 census, where he was living alone and owner of a saw mill.
In 1880, Harlan's brother James B. Lovering was still working in Jersey City , probably with the John Dixon Crucible Company, makers of the Ticonderoga Pencils, (though his census shows "lead pipe manufacturing"). By this time, James B. Lovering had a wife named "Jennie" (Hessie) and had children Minnie, age 7 and Percy age 2.
By 1885, Harlan's brother James B. Lovering had moved to Florida with his wife and children. James, now nearly age 50, lived in Webster, Levy County, Florida, and had become a farmer. By 1900 James and his wife Jennie, along with their children Everett, James R and Minnie (all three born in New Jersey), were still living in Webster, Florida. James, now 60, had traded farming for a career as a physician. James B. Lovering, along with his wife and one son, were living in Largo by 1910, which was then still part of Hillsborough County. James B. Lovering, now in his early 70's, was the proprietor of a drug store. His 1920 Census in St. Pete, FL, shows he was a druggist, age 82. James B. Lovering, brother of the former Tampa mayor, probably died in St. Petersburg, FL.
Meanwhile, by 1900, the former Tampa mayor Harlan P. Lovering, Sr., had settled in Precinct 28 of Hillsborough County, an unincorporated area of Tampa known as "College Hill." Now age 56, he and his 52 year old wife Eliza are without any of their children at home. Their youngest, Annie, would have been 22 by then. However, Eliza was the mother 5 children, with only 4 living by this time. Harlan was working as a day laborer in 1900.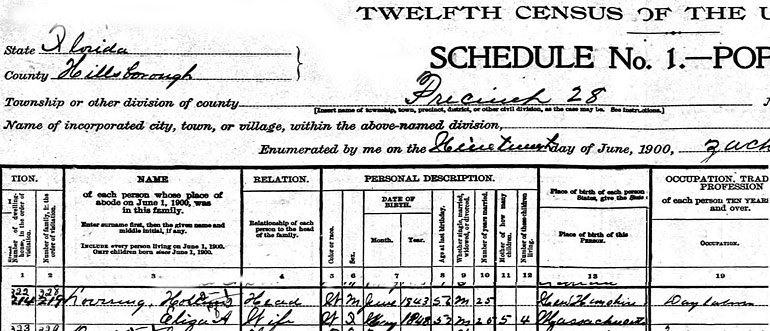 In 1910, Harlan P. Lovering, Sr. and his wife Eliza were still in College Hill, located in Precinct 28. Harlan and Eliza had now been married for 40 years. The former Tampa mayor was a Real Estate agent by his mid 60's.

Eliza A. Wentworth Lovering died on Aug. 8, 1920 in Tampa. Harlan Page Lovering, Sr., Tampa's former mayor, died in Tampa on Aug. 6, 1924 at the age of 81.
James Raymond Lovering, son of the former Tampa mayor Harland, married Marie V. Hamilton and had 4 children--two boys (deceased) and two girls, Edna and Rita. Edna lives in Georgia and Rita lives in Jacksonville, FL. Descendants of the former mayor's son, Harlan P. Lovering Jr., still live in the Tampa area.
Mayor Harland Lovering at TampaGov.net Tampapix Home City Hall Page 2