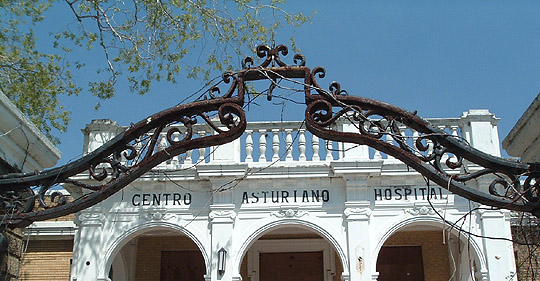 Like the rusting relics salvaged from the Titanic, this iron scrollwork above the entrance
is a reminder of a bygone era when aesthetics and artisanship went hand in hand with functionality.
The header for the two Centro Asturiano pages was scanned from my birth certificate,
notice how the curve of the text closely follows the curve of this iron archway.
Read another article on the rehabilitation project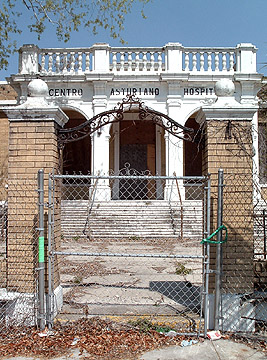 This chain link fence encircles the entire property.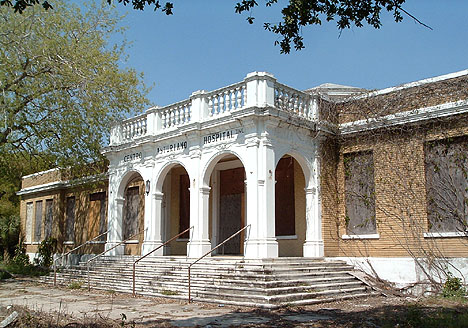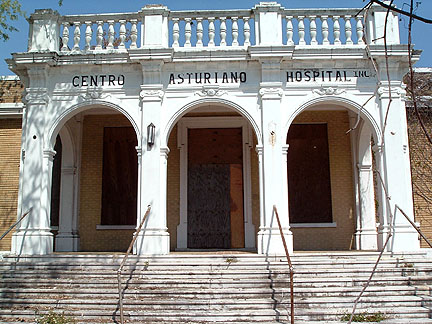 Photos from 1928 and the 1930's
Hold your cursor on each to read the pop-up caption before clicking to enlarge.
(On some of these, Internet Explorer MAY reduce the new image to fit your window, in which case you should maximize your window and place your cursor on the lower right of the new window.)
Many old pics of various hospitals and health clinics can be seen here at Exploring Florida (The 5th button on the first row and the 1st button on the second row are from their web site at http://fcit.usf.edu/florida/ ) These and the others are Courtesy of the Special Collections Department, University of South Florida. Digitization provided by the USF Libraries Digitization Center.
Read about immigrant mutual aid societies in Tampa
Hospital Page 1 Hospital Page 2 Return to Tampapix home page