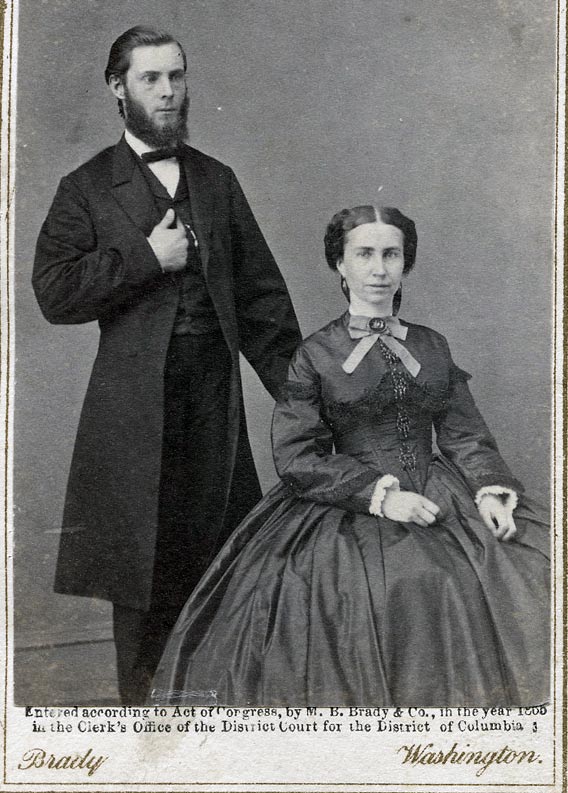 There are several websites and blogs that purport this 1865 photo at left is Clara Barton and John J. Elwell. Some even claim "confirmation" of this.
Considering that Mathew Brady's famous portrait of Clara is also believed to have been taken in 1865, differences of their facial features are obvious--Clara had a much wider, rounder face, with eyes further apart, than that of the woman at left.
Also, taking into account that Clara never was with or even met John J. Elwell until meeting him at Hilton Head, and they were never in Washington at the same time. Stephen Oates wrote in his book A Woman of Valor, "...he [Gen. Daniel Rucker, Chief QM, Washington, DC] told her that Colonel Elwell had been there inquiring after her, and the possibility that she might see John Elwell again lifted her spirits a little. But she heard nothing more from Elwell until early spring, when she received a letter saying that he was now stationed at the Union prison in Elmira, New York…"
(Comment by Susan Rosenvold, Feb. 24, 2014)
Finally, Clara's personality--her intense shyness which was with her all her life, would not permitted her to flaunt such a relationship by having a portrait taken of herself with Elwell. If the purpose was to show a military leader and a nurse of the Civil War, why would they not wear attire to illustrate this?
As for her dress and hair style, this was the style and fashion of tens of thousands of women of this social class in this time period.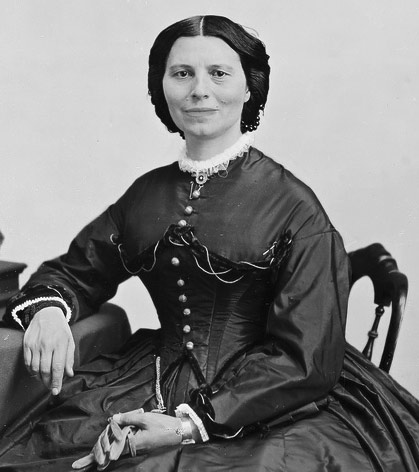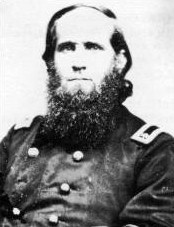 At immediate left, a crop of studio portrait of John J. Elwell by Mathew Brady, 1860-1865, from National Archives.
At far left, from Find-A-Grave.
Clearly not the same person in the top photo.