Born in Tampa on Jan. 23, 1890, Blanche was the youngest of five children. Her father, Levin Armwood, Jr. was born in 1855 to slave parents in Colquitt, Georgia, and moved to Tampa after emancipation, arriving as a boy by wagon train from Georgia in 1866. Blanche's great uncle, John Armwood, had been a negotiator between the Seminoles and white settlers on the southern Florida Frontier, and early landowner when he homesteaded 159 acres in early Hillsborough County. Blanche's mother, Margaret Holloman, was one of 12 children. Margaret's father, Adam Holloman (b.1838 d. 1905), owned citrus groves and was Hillsborough County commissioner from 1873 to 1877. Margaret's grandfather, Mills Holloman (b.1895 d. 1882) was also a citrus grower who served as Hillsborough County commissioner, from 1868 to 1871.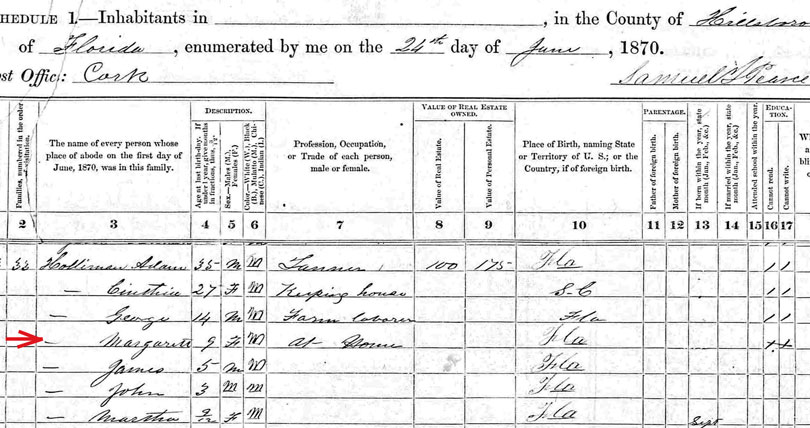 The 1870 Census of Hillsborough County shows 9-year-old Margaret Holloman living with her brothers and sister,
and her parents Adam and Cristine Holloman.
Levin Armwood, Jr. and Margaret "Maggie" Holloman married in 1878. Together, Levin and Margaret raised a family which extolled traditional Christian values of hard work, thrift, and love of God. With the aid of his father-in-law and perhaps some assistance from the Freedmen's Bureau, Levin Armwood, Jr. also became a citrus grower. A trusted member of the community and pastor in his church, Levin Armwood, Jr. was Tampa's first black police officer as a deputy sheriff and Supervisor of County Roads constructed by prisoners. Margaret earned extra money as a dressmaker. Three children, Walter, Idella, and Blanche survived to adulthood. All became model citizens. Walter, an architect, became professor at Bethune-Cookman College and principal of Brewer Normal School in South Carolina. He and his father jointly owned "The Gem", which was for many years Tampa's only black drugstore. During WW1, Walter was Florida State Supervisor for the U.S. Bureau of Negro Economics. Idella, a licensed businesswoman in 1910, was a shopkeeper, Home Economics teacher in Hillsborough County, officer in the Lilly White Society, and remained active in women's clubs and community activities.
Armwood family reunion at their home on Constance St. circa 1912
Identification of persons in the photo is currently being corrected.
Photo from Exploring Florida, Courtesy of the Special Collections Department, University of South Florida. Digitization provided by the USF Libraries Digitization Center.