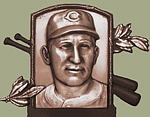 Al Lopez briefly returned to manage 47 games in 1968 for the White Sox and 17 games in 1969, then retired. His 1410 wins ranked 11th all-time upon his retirement, and his 840 wins with the White Sox still rank second in franchise history, behind Jimmy Dykes (899).
Lopez was inducted into the Baseball Hall of Fame in 1977. (Click image to read entire plaque)
In 1954, Al Lopez Field in his hometown of Tampa was named in his honor. The Field was razed in 1989, and its former location is now the south end zone of Raymond James Stadium. Al Lopez Park, formerly Horizon Park north of the stadium, was renamed in his honor in 1992, and a statue of him was erected there.

See 1984 video of Tampa Stadium, Al Lopez Field and Ybor City
Lopez died in Tampa on Oct. 30, 2005 at the age of 97, just four days after the White Sox won the World Series for the first time in 88 years--their first pennant-winning season since Lopez led the 1959 team. He had been hospitalized for a heart attack, suffered two days earlier at his son's home. He was the longest-lived member of the Baseball Hall of Fame, and the last living major leaguer to play in the 1920s.
See photos of Al Lopez from LIFE Magazine