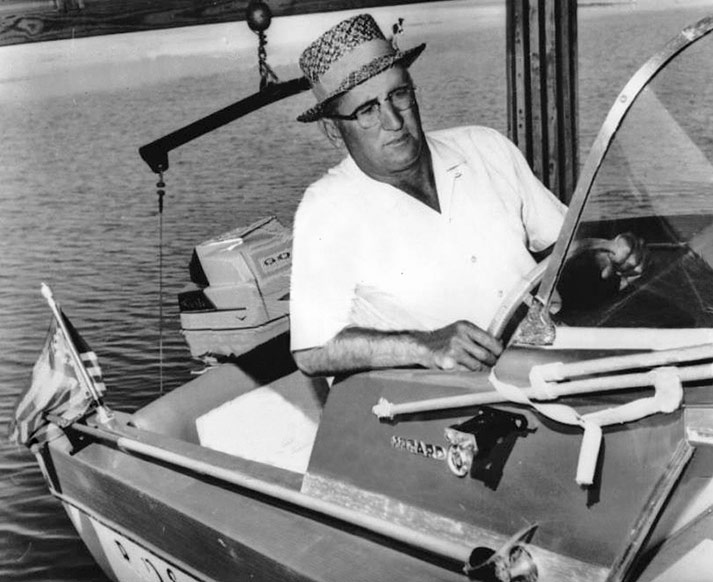 "Shown in the boathouse of his Tampa home, Feb. 14, 1961, Chicago White Sox manager Al Lopez checks out his boat while it is still out of the water. The White Sox open their spring training camp at Sarasota on Feb. 27." (UPI photo used in St. Pete Times article on Feb. 17, 1961.)
The Cincinnati Reds used the park for three decades.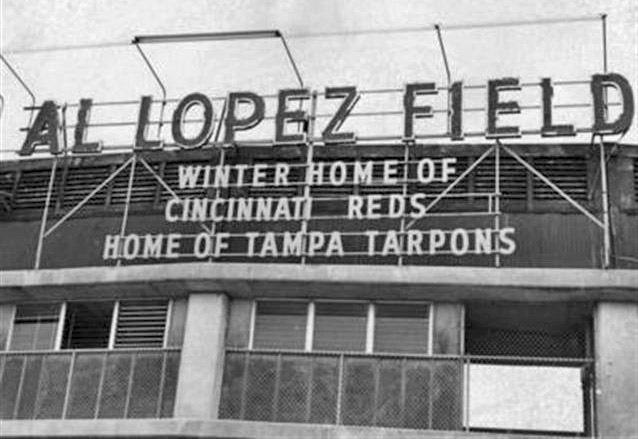 Al Lopez Field signage, March 1, 1963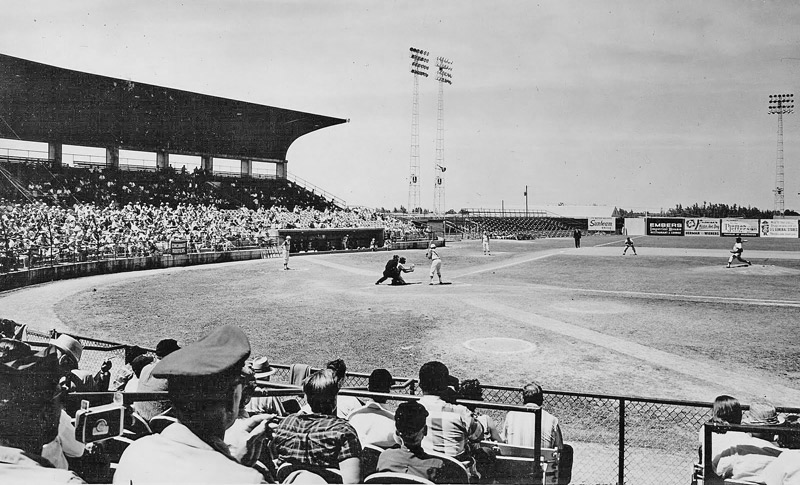 Al Lopez Field, 1960s. Notice ads for Sunbeam Bread, Embers Restaurant, Florida's Mister Hot Dog Herman Wieners, Hotel Thomas Jefferson and Li'l General Stores in outfield.
Photo courtesy of Tampa Sports History Blog, May 2010

---
President Kennedy at Al Lopez Field
On Nov. 18th, 1963, President John F. Kennedy came to Tampa and made a speech at Al Lopez Field at an occasion commemorating the 50th anniversary of Tony Jannus' flight. His next stop after Tampa was Dallas/Ft. Worth.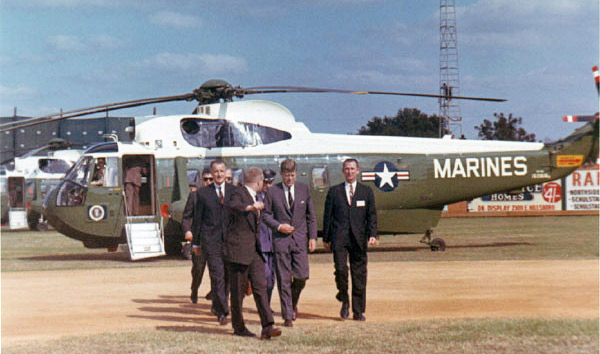 President Kennedy arriving at Al Lopez Field on Marine 1 with Florida U.S. Rep. Sam Gibbons on the far right and Florida U.S. Senator George Smathers on the far left.
Photo courtesy of the John F. Kennedy Presidential Library and Museum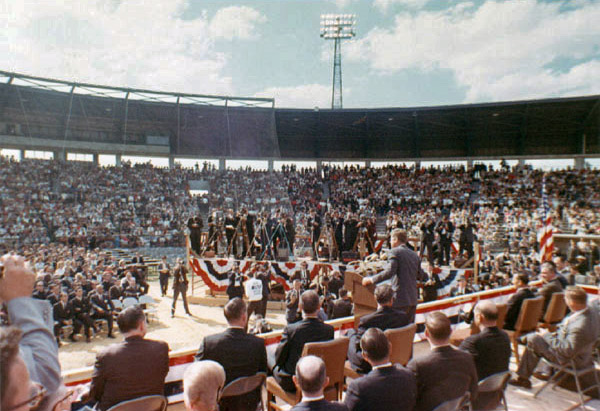 President Kennedy addressing the crowd at Al Lopez field.
Photo courtesy of the John F. Kennedy Presidential Library and Museum.
Listen to an mp3 file of JFK's Al Lopez Field speech at the JFK Presidential Library and Museum website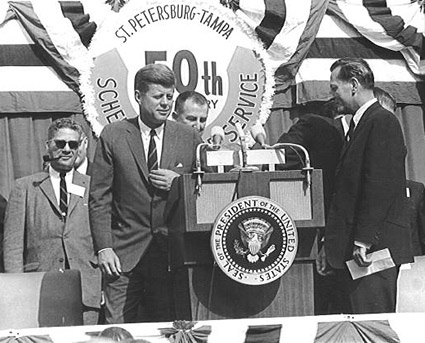 Photo by Tony Zappone - See more photos by Mr. Zappone and read his memories of this event
---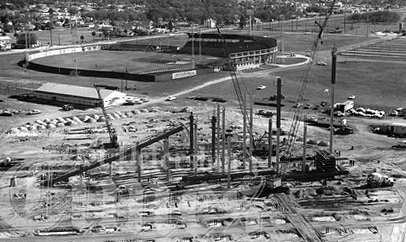 In 1967, Tampa Stadium was built at a cost of 4.6 million dollars, just northwest of Al Lopez Field.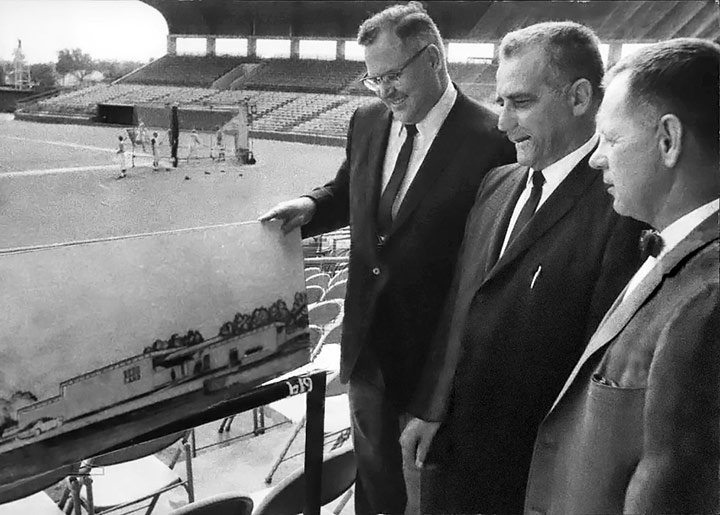 Al Lopez Field - Photo caption used when this photo appeared in the St. Pete Times on Mar. 2, 1968: "Cincinnati VP/General Manager Bob Howsam (at left) and Tampa officials look over a drawing of the new minor league administration building at Reds Land, near Al Lopez Field. With Howsam are Ralph Chapman (right) of the Greater Tampa Chamber of Commerce and Mike Vigil, who is chairman of the Tampa Seventh-Inning Club, a group of strong Reds' boosters."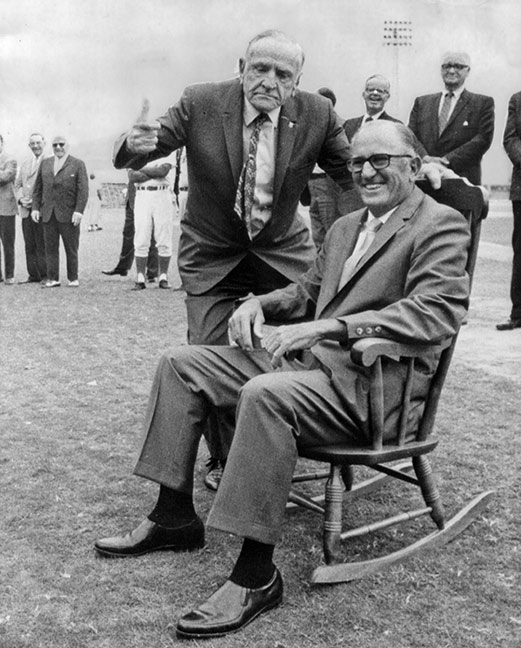 Mar. 23, 1970 - CASEY WANTS THE ROCKING CHAIR
Casey Stengel is giving Al Lopez the out sign, but it is Al Lopez's rocking chair presented to Lopez by his home folks in Tampa. Lopez, the retired Chicago White Sox manager, executive, catcher, etc., was given an Al Lopez Day, complete with gifts, plaques and baseball officials participation.
AP wire photo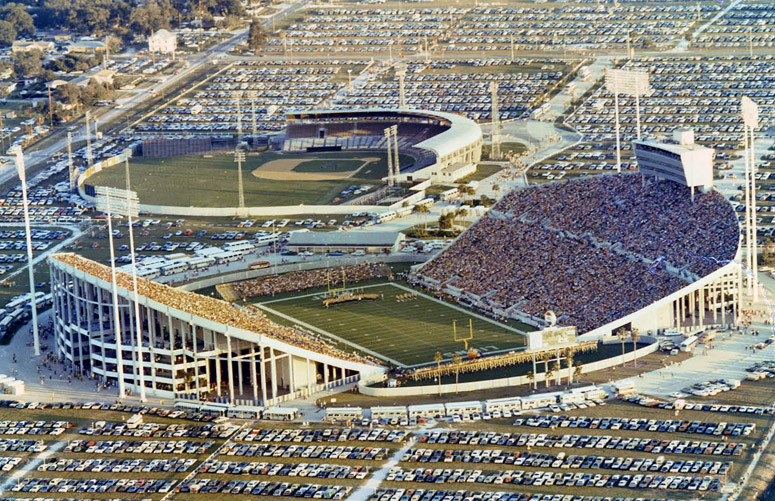 New York Jets vs. Detroit Lions, Aug. 7, 1971
See Tampa Stadium History at TampaPix


Baseball fans waiting outside Al Lopez Field before a Tampa Tarpons game, mid to late 1970s.
Photo courtesy of Tampa Baseball Museum on Facebook

After the spring session of 1987, the Reds left Al Lopez Field for newer facilities in Plant City, Florida. Even though the Tampa Tarpons reached an affiliation agreement with the Chicago White Sox for the 1988 season, revenue from leasing the ballpark to the Tarpons did not cover expenses and the Tampa Sports Authority would not agree to a lease longer than a year. This also allowed the TSA to move forward on redevelopment plans for the location. Aug. 28, 1988 was the final game at Al Lopez Field; the Tampa Tarpons defeated Port St. Lucie 6-1 (the final two regular-season games were rained out, and bad weather also canceled games in an FSL playoff series.) Demolition on the ballpark began in March 1989 and was completed that May.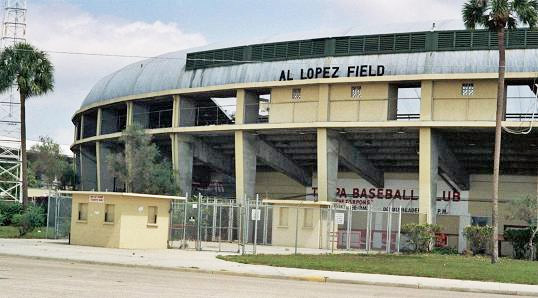 The ballpark's former location is now the southeast portion of Raymond James Stadium. Al Lopez Park, formerly Horizon Park north of the stadium, was renamed in Al Lopez's honor in 1992, and a statue of him was erected there. Raymond James Stadium at TampaPix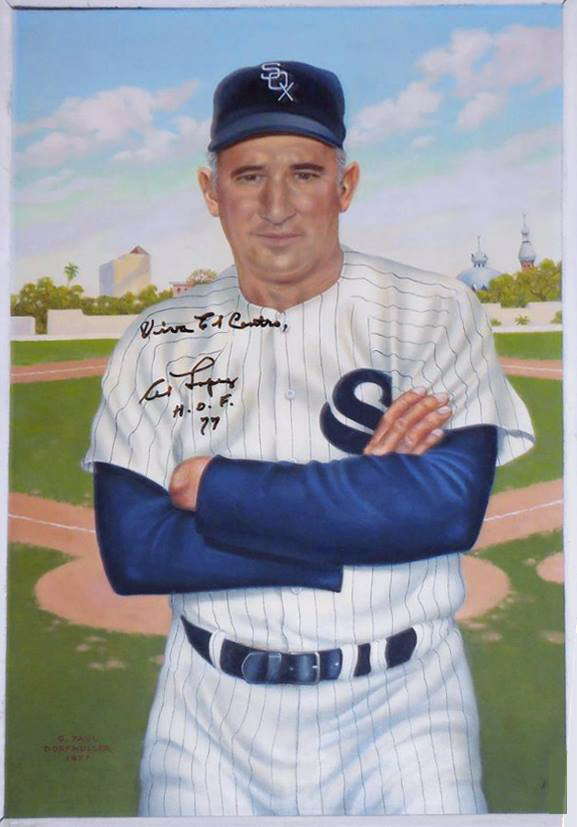 Al Lopez
Lopez died in Tampa on Oct. 30, 2005 at the age of 97, just four days after the White Sox won the World Series for the first time in 88 years--their first pennant-winning season since Lopez led the 1959 team. He had been hospitalized for a heart attack, suffered two days earlier at his son's home. He was the longest-lived member of the Baseball Hall of Fame, and the last living major leaguer to play in the 1920s.
"Vive El Centro" autographed portrait of Al Lopez displayed at the El Centro Asturiano in Ybor City.
See photos of Al Lopez from LIFE Magazine
Al Lopez's childhood home in Ybor City is being turned into a baseball museum. See the Tampa Baseball Museum website.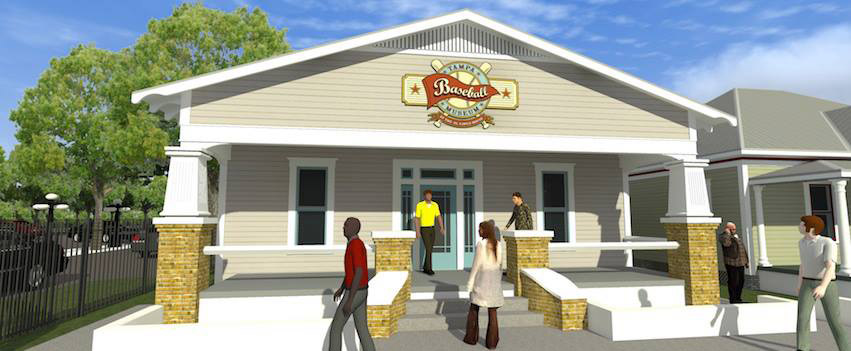 As part of its Interstate Historic Mitigation Plan, Florida Department of Transportation relocated Al Lopez's former home from 1210 E. 12th Ave. to its new location at 2003 N. 19th St. See photos from this 14 hour trip.
See 1984 video of Tampa Stadium, Al Lopez Field and Ybor City
---